The world's first drone delivery system is now operational in Iceland
September 6, 2017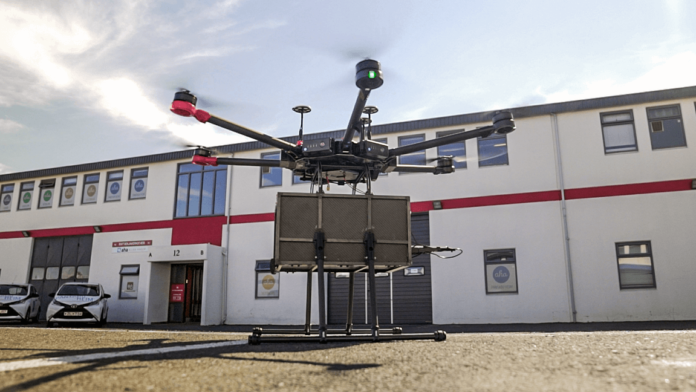 Flytrex delivery drone
Israeli drone delivery startup Flytrex has received approval from Icelandic authorities to begin delivery flights in partnership with the online consumer goods and food logistics firm Aha. This development makes Iceland the first country in the world with an operational commercial drone service. In its current trial phase, Flytrex will deliver on-demand goods such as hot food and beer along a predetermined flight route over the Icelandic capital of Reykjavik.
Flytrex's commercial drone delivery service will be used by Aha to cut down on delivery times between the east and west sides of Reykjavik, which are separated by a body of water. Instead of having to endure the circuitous route around the bay, and the lengthy traffic jams that accompany the trip, an Aha employ will instead bring the customer's order to a drone launch point and send it across the bay to a delivery point on the other side of Reykjavik, where another Aha employee will then retrieve the item and complete the "last-mile" of the delivery.
In the next year, Flytrex plans to deliver goods directly to the customer's doorstep (or backyard) through a cable-system that descends from the delivery drone, safely placing the order on the ground. While the partnership between Flytrex and Aha is still in a limited trial phase, it marks a step forward for the commercial drone delivery market.
Although commercial drone delivery efforts have soaked up media coverage, they have little to show for in the way of concrete developments. Major companies such as Amazon, Google, and UPS have all been working on drone delivery but have been hamstrung by a combination of government regulations hostile to beyond visual line of sight flights (BVLOS) and the overall logistical difficulty of transporting goods by way of drones. In populated cities such as New York, drone delivery is a logistical and operational nightmare due to the preponderance of high-rise buildings.
The economics of drone delivery have also come under scrutiny due to the low number of packages drones can carry per trip. While a delivery truck can drop off hundreds of packages in one trip, most delivery drones can only carry a small package under 5 kg.
What drones lack in strength and endurance they make up for in speed. However, due to the 15 minute flight range of most delivery drones companies would need to construct many more warehouses or drone launch points if they are to provide drone delivery coverage for the masses. Without proper infrastructure, technological improvements, or regulatory approval, the promise of lightning quick drone delivery will yet to be realized.
For now, drone delivery has shown the most promise in areas that are isolated geographically. In Africa, a company called Zipline has been successful in transporting life-saving medical supplies to and from villages with little access to the rest of the world. As the Flytrex partnership with Aha in Iceland shows, drones can improve efficiency and cut down on delivery times by taking direct routes over terrain that is otherwise impassable with traditional modes of transportation.
---
Loading Conversation